GOLF CRUISE HAWAII with GolfAhoy! 
About this 8 Day GolfAhoy Hawaii Golf Cruise. Weekly departures year-round. Individuals, couples, and groups. 8 Day GolfAhoy Hawaii Golf Cruise pkg, 1 Night Sheraton Waikiki Beach pre-cruise, 7 Night Circle Hawaii Golf Cruise, 5 Rounds Hawaii Championship Golf Course Excursions.
More GolfAhoy Golf Cruises:
10 DAY VIP DELUXE HAWAII ISLANDS GOLF CRUISE PENTHOUSE SUITE
9 DAY HAWAII ISLANDS GOLF CRUISE BALCONY CABIN
8 DAY HAWAII ISLANDS GOLF CRUISE BALCONY CABIN
ALOHA GOLF CRUISE HAWAII 7 DAYS
HAWAII GOLF CRUISE ANNIVERSARY VALENTINE'S WEEK FEBRUARY 2023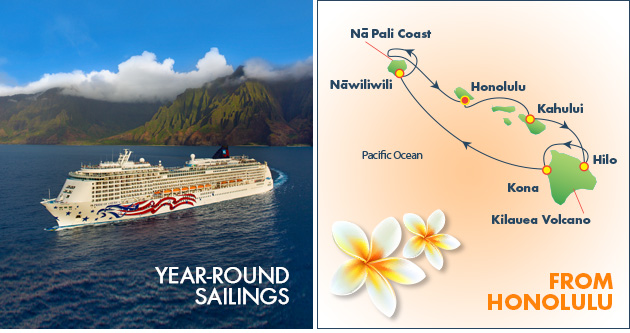 GolfAhoy Golf Shore Excursions are included in this GolfAhoy 8 Day GolfAhoy Hawaii Golf Cruise package:
GOLF Kapalua Plantation GC or The Bay Course at Kapalua. The Plantation Course is on every golfer's bucket list. GolfAhoy has included the best (and most expensive) Championship Hawaii golf courses for you in this package! Designed by Ben Crenshaw and Bill Coore, the course was designed on a grand scale in keeping with its location on the slopes of the West Maui Mountains and offers dramatic ocean views from virtually every hole. Its lengthy 7,411-yard par 73 layout challenges the pros, but its wide fairways and generous greens make it very playable for the average golfer. With dramatic elevation changes, this course offers plenty of downhill tee shots. You will feel like one of the pros when – with the aid of the aggressive slope of the 18th fairway – you will enjoy hitting one of the longest drives of your life. The Plantation Course is the site of the PGA TOUR Tournament of Champions each January featuring an elite field of previous year's PGA TOUR winners.
GOLF Wailea Emerald GC. USA's first most women-friendly golf course! Among the world's great golf destinations, few shine as brightly as Wailea. Renowned for its ideal golf weather – typically sunny with gentle breezes – Wailea on the magical island of Maui is rated among the best golf courses in the USA by both Golf Magazine and Golf Digest. Here, you can experience the Wailea Golf Club, whose Championship Emerald course boasts breathtaking ocean views from every hole. The Wailea Emerald Course was designed to be fun for practically every player, the 6,825-yard Wailea Emerald Course was one reason Golf for Women Magazine first granted the Wailea Golf Club a Top Fairways Award for the country's most women-friendly golf club, an honor that the Wailea Golf Club received seven times. Other golf authorities agreed: LINKS Magazine and Golf Digest have also lauded Wailea's picturesque Emerald as a great course for women. Its women-friendly reputation aside, however, the Emerald Course is simply a delightful course for all players. Its carpet-like fairways, fragrant tropical foliage, and numerous ocean and island vistas capture just about everything you could expect from a golf round on gorgeous Maui. While Emerald's friendly fairways are by no means a cakewalk, the course is ideal for players who enjoy the challenge of golf but view it as an enjoyable form of recreation rather than a grueling test of concentration and precision. Memorable holes include #6, a par 4 downhill dogleg, measuring 415 yards from the white tees. There is plenty of landing area for your tee shot, but the green falls off sharply in all directions into grass bunkers, leaving you with a tricky pitch shot if your approach shot is not on the mark. Hole #11 is the longest on the course, 535 yards from the white tees, and usually into the wind, making it tougher to reach the green. One of the more unusual features of the Emerald Course is the double green shared by holes #10 and #17. The green borders a 2.7-million-gallon brackish water lake and is one of the most picturesque spots on the course. The Emerald has four to six tee boxes on every hole, enabling golfers to tailor the course to their skill level.
GOLF Mauna Lani GC or Mauna Kea GC. Mauna Lani Resort features two championship courses, the Francis H. Iwi Brown North and South. Both Island of Hawaii golf courses offers a challenging experience to novice and professional golfers alike. Mauna Lani was home to the Senior Skins Golf Game for 11 years and now hosts the prestigious Hawaii State Open in December each year.
GOLF Poipu Bay GC. Where Champions play! Here, nature and renowned designer Robert Trent Jones Jr. have conspired to create a stunning venue for golfers of all abilities. Play on the same course challenged by even the best of the best professional golfers in the PGA Grand Slam of Golf. A unique and unforgettable golf experience awaits you – one that will bring every aspect of your game into a fresh and thrilling focus. More than an award-winning Championship course, Poipu Bay Golf Course offers exceptional amenities such as an in-cart satellite navigation system that tells you the exact distance to the hole and the pin placement, complimentary bottled water, and refreshing cold towels. Visit the Golf Shop at Poipu Bay for fashionable logo golf wear after your round and tell them GolfAhoy sent you.
GOLF Ocean Course at Hōkūala. One signature Championship hole after another! Here, where the ocean meets the land, is as good as a golfer's life gets. The Ocean Course at Hōkūala has been completely renovated in anticipation of your visit. Winding its way through mango and guava groves to dramatic seaside cliffs, MSN Travel called the Ocean Course at Hōkūala one of the world's twelve most beautiful courses. It's little wonder that the list of accolades for this Jack Nicklaus Signature track is as long as its string of holes that hug the Pacific. This continuous stretch of oceanfront golf is the longest in all of Hawaii and a certain highlight of every visit.
GolfAhoy Golf Shore Excursions are included:
Early morning priority tee times
Private GolfAhoy drivers (couples) for golf course transfers, luxury airconditioned coaches for (groups)
Practice warm-up balls at the driving range
Pre-reserved and pre-paid greens fees and cart rental for 18 holes
More info: https://golfahoy.com/golf-cruise/8-day-golfahoy-hawaii-golf-cruise-pkg-1-night-sheraton-waikiki-beach-7-night-circle-hawaii-golf-cruise-5-rounds-hawaii-championship-golf-excursions