Anthony Webber. Editor-at-Large. iGTN. Aloha Golf Cruise Hawaii | 7 Day Circle Hawaii Islands Golf Cruise with optional GolfAhoy island-golf-shore-excursions | plus dozens of shore excursion adventures for non-golfing travel companions | Saturday-to-Saturday sailings every week from Honolulu year-round.
Hawaii Cruise Ports | Honolulu, Oahu | Kahului, Maui | Hilo, Hawaii | Kona, Hawaii | Nāwiliwili, Kaua`i | Honolulu, Oahu.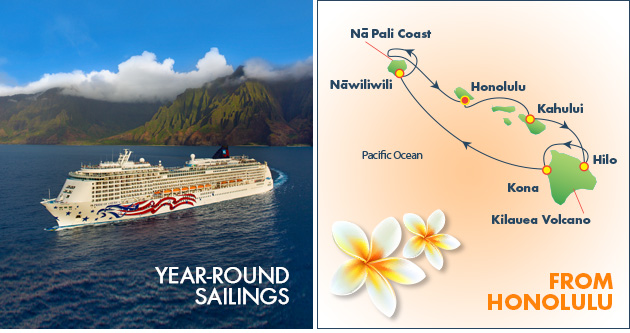 Aloha Golf Cruises has selected the best Hawaii golf course layouts to fit your budget for play during your 7 Day Circle Hawaii Islands Golf Cruise | Ask your Aloha Golf Cruises counselor about golf club rentals if you choose to leave your own clubs at home.
Golf Bags Fly Free to Hawaii with Southwest Airlines | Fly Southwest from the USA West coast to Hawaii | Airfare for early bookers from Oakland OAK or San Jose SJC roundtrip Honolulu HNL starting at US$304 per seat.
7 Day Circle Hawaii Islands Cruise Fares | Per person double occupancy fares starting with an Interior Cabin US$1,100 | Ocean View Cabin US$1,400 | Balcony Cabin US$1,800 | Suite US$3,100.
Complimentary Dining. Every cruise fare includes beautifully crafted menus in the two main dining rooms for cooked-to-order breakfasts, lunches and dinners, help-yourself buffets, and a variety of casual cafés, grills, on-the-go choices, and complimentary seats to evening entertainment in the Broadway show theater, bars and lounges.
Visit our 9 Day Hawaii Golf Cruise VIDEOS.
Book early for best fares and NCL Pride of America early booker bonus benefits | *FREE Unlimited Beverages at all bars, lounges, and restaurants | *FREE Specialty Restaurant dining | *FREE WiFi
Norwegian Cruise Lines-Pride of America-Cabin Accommodations.
Interior Cabins (approx. 134 sq. ft.) are the least expensive and quite comfortable if you are not claustrophobia prone. This is the cabin Category accommodation you are going to pick for a HUGE deal
Book a Quad Cabin (for four). Choose one of the Norwegian Cruise Lines' Pride of America 3rd and 4th passenger sail free qualifying departure dates for a HUGE deal. Pay the 1st and 2nd passenger fares and the 3rd and 4th passengers sharing your cabin sail for free. *Terms & Conditions
Budget Cruise Fares. Next in line for cruise fare 'cost vs budget' consideration, is the Oceanview Cabin (approx. 144 sq.ft.) category – they have a large fixed picture view window.
Balcony Cabin. The most popular Category to 'sell-out' early, on every one of our 7-day Hawaii cruise departures, is the next in line after Oceanview Cabins – the more expensive 'in demand' spacious Balcony Cabins (approx. 178 sq. ft. + 40 sq. ft. balcony) – they come with a private veranda and outdoor seating\dining for two – a great category to select for room service breakfasts and happy hour sundowners on your veranda. (Balcony Cabins have larger square footage than the Interior and Oceanview cabins) 
Suites. Up on the higher decks, you'll find luxuriously appointed and spacious Suites.  Penthouse Suites (approx. 688 sq. ft.)  with larger balconies (approx. 301 sq. ft.) can come with extra-large balconies (approx. 490 sq. ft.) in some categories, 2 Bedroom Family Suites, Owners Suites and – the Deluxe Owners Suite (approx. 1382 sq. ft.) with balcony (approx. 490 sq. ft.) comes with:
Your own private Butler and Concierge
Grand Piano in your private living and dining room
Jacuzzi hot tub on the expansive private veranda
Course by course white glove Butler breakfast, lunch and dinner service in your Suite dining room on request
Evening cocktails, aperitifs pre-dinner, served in your VIP Deluxe Owners Suite
Lots more privileged amenities
If it's a special occasion, birthday or wedding anniversary celebration this is the Hawaii golf cruise for you. GolfAhoy 10 Day VIP Deluxe Circle Hawaii Islands Golf Cruise. If this is your travel lifestyle, you'll need GolfAhoy, our sister company. For this level of luxury and VIP service coupled with exclusive golf excursions on Hawaii's top Championship golf courses – you'll demand the GolfAhoy 10 Day VIP Deluxe Circle Hawaii Islands Golf Cruise.
Form a GROUP for Earned Tour Conductor Ticket Credits
Number Of Cabins
8+
16+
32+
48+
64+
100+
 
Cruise For Free
 *1 Half Free Cabin
*1 Free Cabin
*1 Free Cabin
*2 Free Cabins
*3 Free Cabins
*5+ Free Cabins
Onboard Gift
2 Per       Cabin
2 Per Cabin
2 Per Cabin
2 Per Cabin
Onboard Spending
$25 Per Cabin
$25 Per Cabin
$50 Per Cabin
$50 Per Cabin
Group Leader "Thank You" Reward (Post Cruise)
$200
$300
$500
$750
$1,500
Personal Onboard Coordinator
Complimentary

Personal Onboard GolfAhoy Event Planner

*Review Terms and Conditions with your GolfAhoy cruise counselor
7 Day Hawaii Islands Escorted Group Golf Cruise customized country club departure dates year-round every Saturday.
Escorted Group Hawaii Islands Cruise & Golf Shore Excursions by GolfAhoy Est.1988. Licensed. Bonded. Insured.
Couples Play up to 7 Hawaii Championship Courses on our exclusive GolfAhoy 10 Day VIP Deluxe Circle Hawaii Golf Cruise – If it's a special occasion, birthday or wedding anniversary celebration this is the Hawaii golf cruise for you.
What you need to know about best price GolfAhoy Hawaii golf cruises.
Golf cruises are operated by GolfAhoy a Travel Leaders Network affiliate. Travel Leaders Network has more than 7,000 company-owned, franchised and affiliated travel agencies throughout North America with travel sales of more than $21 Billion.
Shopping the web for a deal on Hawaii golf cruises can be a time-consuming grind. Guess who gets the best deals from global travel vendors for our valued clients. GolfAhoy – that's who! Cut to the chase! Go directly to GolfAhoy.com
GROUPS
PGA Member\Director of Golf\Club General Manager\Group Tour Conductor Benefits:
PGA Group Tour Conductor. When you travel with sixteen of your Members our GolfAhoy GTC rewards program will comp the complete schedule of cruise fare cost, land arrangements and provide funds for your own airfare, caddie fees, and out-of-pocket expenses.
When you lead your Members, 16 paid cabins / 32 passengers, on a 7 Day Hawaii Islands Group Golf Cruise on NCL Pride of America our GolfAhoy GTC rewards program will comp your entire cruise fare and golf arrangements, plus we'll comp the cruise fare for your spouse\travel companion.
Obviously, you can't travel with all your Members but every time you introduce us to a Member who books we'll return the favor with a 5% Introductory Reward. Your reward will be calculated on the total booking value excluding airfare. We ask that you document your referral with an introduction emailed to res@GolfAhoy.com in advance of our contact with your Member.
Contact
GolfAhoy Corporate
Anthony Webber
+1-239-344-9187