Our team of experienced cruise, hotel, and venue sourcing experts at Global Cynergies LLC will find the best solution for your next golf-themed event – all at no cost to Corporate Meeting Planners and Company Incentive Travel Buyers. For real.
Corporate Meeting Planners and Company Incentive Travel Buyers use our teams time to save money! On average, our free services save our clients 10% to 25%.
Moreover, our Supplier Contracts are required to include a statement that supplier rates are not inflated to compensate for Global Cynergies' involvement.
The decision maker is always you, our valued client. At Global Cynergies we earn your business and your trust one meeting at a time.
After one outreach to Anthony Webber, Regional Director at Global Cynergies for global Golf-Themed Meetings, Incentives, Conferences, and Exhibitions you can move on to other priorities while remaining in total control of your event – Anthony's team reports to you, you own the event, you get all the credit.
Your Global Cynergies Regional Director will prepare an executive summary and detailed report outlining the applicable cruises/hotels/venues/destinations/golf courses/golf tournaments for your program in a comparative, yet easy to digest format.
FREE Sourcing for your MICE Golf-Themed Meetings Incentives Conferences & Exhibitions with all Cruise Lines/Hotels & Golf Resorts/Function Venues/Golf Destinations/and Golf Courses.
Our team will help you organize golf tournaments and golf game breaks.
About Golf Tournament Sponsorship. The first pool of sponsors for your MICE Golf Meetings Incentives Conferences Exhibitions 'golf tournament' should come from your organization's pool of existing suppliers. Popular sponsorships include hole-in-one contests, gift bags, 19th Hole cocktail parties and golf trophies and awards banquets.
Can every meeting attendee participate in casual golf tournament formats and golf game breaks? Yes, absolutely! (We arrange disabled inclusions in our events). We handle hole-in-one insurance and we'll help you set up your FREE event and golf outings web site. The popular Shot Gun Scramble format often is used at golf-theme conferences. A prime advantage of a scramble is it allows players of all abilities to contribute to the team's success and helps speed play. Golfers who are new to the game can quickly learn the rules and terminology. The four-man scramble features teams of four players competing against one another. In this format, each team's players hit from the tee box, then the team members choose the best of the four shots for the next shot. All team members then play the second shot from that location and again choose the best shot. Play continues in this manner until the hole is completed. The team then records its score and maintains that format for all 18 holes. Scramble tournaments are fun because high handicap players are paired with "never played golf before" novices. By forming teams in groups of four, it increases the odds that at least one player on the team will hit a quality shot during every rotation, thus helping speed the pace of play. The format also plays to certain golfers' strengths. For example, some golfers excel at hitting tee shots, while others are better at chipping and putting. A 4-man scramble gives each player a chance to shine on various shots on any given hole.
Golf Game Day Breaks
• Get a FREE Custom Golf Event Website
• Golf Game Days/Great Group Photograph Opportunities
• Golf Game Days keep the momentum and energy high and present light-hearted video and still photo moments
• Cone Game. Set up three cones: one at 150 yards from the green, one at 50 yards from the green, and one on the green (at about a 10-ft. putt). Not only is this a fun way for your players to gain a competitive advantage on this hole, it speeds up pace of play on a harder hole – which is a win for everyone
• Circle Hole. For the Circle Hole, draw a 15-ft. circle around the pin on a par 3. If the ball lands inside the circle, the golfer gets a prize – if it doesn't, they can try again or move on. Each golfer can have up to three tries that do not count as mulligans
• Wheel of Fortune Hole. Spin the wheel, where you split the options into beneficial ones such as: "Proceed to the green to putt" or "hole-in-one" or "everyone gets an extra drive"
• Straightest Drive. This can be a great alternative to the Longest Drive, for people who might not be able to hit the ball far – but they can hit it straight! You can also do Closest to the Curve, and instead of a straight line, draw a zig-zag on the course, and whoever lands closest to the white line, wins. Closest to the Curve can be fun as it's all about luck, and even the worst golfer can win
• Beat the Pro and Play with the Pro. Set up on a par 3 hole, and have the golf professional challenge the group to a Closest-to-the-Pin contest. If anyone gets a better shot than the pro, that golfer gets a small prize
• Frisbee Golf. You might consider adding a game for great photo opportunities. Frisbee Golf mixes it up for your golfers and novice golfers alike. Tee off at a par 3 approximately 30-50 yards from the green, and use a Frisbee instead of a golf ball and club. Score by how many times it takes a golfer to throw the Frisbee and land it inside a hula hoop you have placed around the flag
We have space for your Golf-Themed Meeting, Incentive, Conference, Exhibition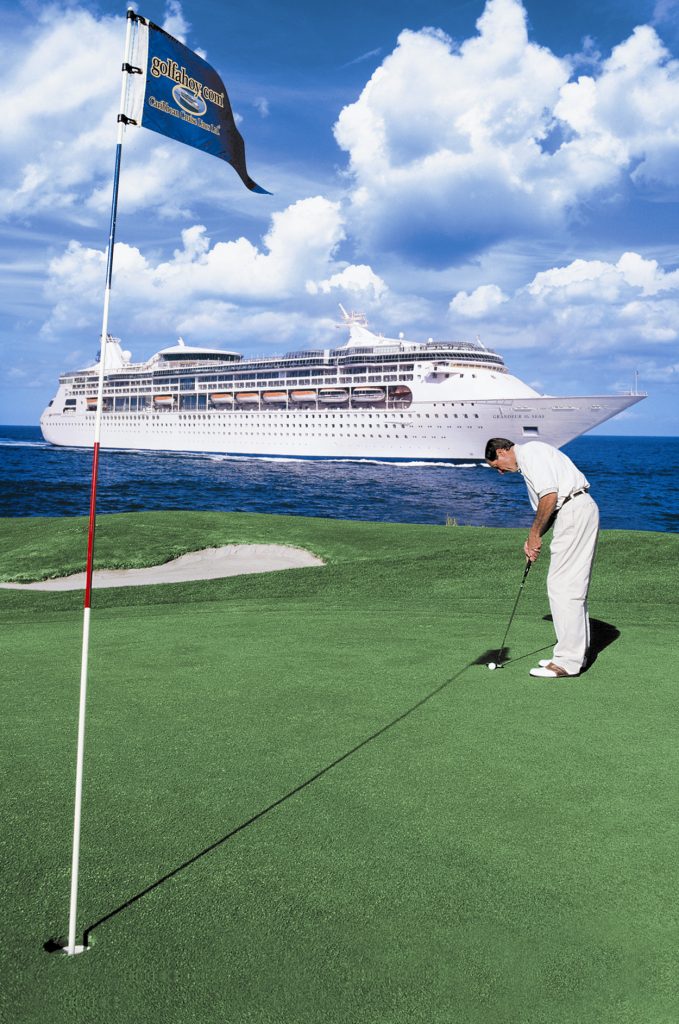 1. 2019 VIP Deluxe Hawaii Golf Cruise – 3 days Turtle Bay Golf & Spa Resort unlimited golf + 7 Day Circle Hawaii Islands Cruise penthouse suite, butler & concierge + challenging championship golf at Hawaii's top 5 golf courses. Under US$20,000 per couple.
2. 2019 British-Open Golf Cruise – British Isles & Open Tournament Observer Tickets + 5 rounds of challenging championship golf at cruise ports o' call. Under US$20,000 per couple.
3. 2019 PGA TOUR Tournament of Champions Hawaii 'Inside the Ropes' or 'Honorary Observer' privileges package + 7 or 10 Day VIP Deluxe Circle Hawaii Islands Golf Cruise + challenging championship golf at Hawaii's top 5 golf courses. Under US$30,000 per couple.
Pat Durocher, Founder & CEO, Global Cynergies. Global Cynergies, LLC is a Certified Women-Owned Business and a Certified Women-Owned Small-Business.
Global Cynergies is a hotel and venue sourcing company comprised of a global team of dedicated professionals. With years of experience, the Global Cynergies team has knowledge that spans the globe and industry relationships in more than 150 countries.
Global Cynergies works with organizations that plan offsite meetings in hotels, resorts, and conference centers. We assist the meeting planner in the process of selecting and contracting with the appropriate venue that meets the specifications of a meeting – size, location, function space, rate, services, amenities, etc., saving them time and money. We utilize our collective knowledge and industry relationships to find the best venue at the best value, anywhere in the world. There is no "charge" to the client for this service.
We have the technology and expertise to efficiently and effectively obtain and provide the information our clients need to make informed decisions, saving them time and money.
NO COST TO YOU! Let our experienced, friendly team of hotel and venue sourcing experts find the best solution for your next meeting – at no cost to you. With industry relationships in more than 150 countries, state of the art technology tools and extensive knowledge based on years of experience, Global Cynergies' methodology is guaranteed to save you time and money.
CONTACT Anthony Webber | Director, National Accounts Golf Themed Events | Global Cynergies, LLC | Head Office USA | 8080 E. Gelding Dr. Ste. 110 Scottsdale, AZ 85260 | Direct: 239-841-2247 | Skype: awebber_35 | email to awebber@globalcynergies.com | www.globalcynergies.com
Top 5 'Golf Themed' Incentive Travel Awards in 2017
1. VIP Deluxe Hawaii Golf Cruise NCL
2. British Open Golf Cruise Azamara & Celebrity
3. Danube River Golf Cruise AmaWaterways
4. Southern Caribbean Golf Cruise RCCL
5. Pacific Mexican Riviera Golf Cruise NCL
After Anthony Webber consults with our clients to gain a complete understanding of the meeting and event requirements and goals, our Global Cynergies team will deliver extensive research using in-house technology, proprietary data, industry resources, and collective personal knowledge to determine which golf resorts, cruise lines, or golf destinations meet the needs of the Corporate Meeting Planner or Company Incentive Travel Buyer client.
Global Cynergies in action:
• Create and send program specific request for proposals (RFP) to appropriate resort properties, cruise lines, destinations and golf courses
• Collect responses from the properties, including follow-up as necessary
• Present available options in an easy to read, comparative report
• Assist in contract negotiations to ensure the best overall value and contract provisions based on local industry norms
• Liaise with the hotel through contract signature. All contracts are signed between hotel and the client
• Assist in transition to conference management after contract signature
• If Global Cynergies is involved in the booking of the program our fee is paid for by the hotel or venue, which is standard industry practice. Moreover, these charges are not passed on to you
• Supplier Contracts are required to include a statement that supplier rates are not inflated to compensate for Global Cynergies' involvement
• Problem Resolution and Penalty Mitigation. In a perfect world, everything goes as planned; but in the event, something unexpected does happen, such as program cancellation or penalty due to mitigation, Global Cynergies is there to assist
• Site Inspection Assistance. Once selected, Global Cynergies can coordinate site inspection visits as appropriate
"Meeting Planners have long accepted that a golf-outing is an unbeatable proposition to boost delegate attendance. Corporate CEO's feel there must be some type of recreation at meetings – it can't just be all learning and then go home – so the choice isn't between having a meeting with golf or without golf, it's between having a meeting with golf – or not having a meeting at all." – says Anthony Webber, Regional Director at Global Cynergies, LLC for global golf-themed Meetings, Incentives, Conferences, and Exhibitions.
Anthony is a 30 Year airline\hotel\cruise\MICE sales veteran with emphasis on sourcing full service 'golf-themed' meetings, incentives, conferences, and exhibitions
• Member or former member ASTA Allied Board; CLIA; IATA; SITE; MPI; SKAL
• PGA Magazine Ambassador; Editor-At-Large Leisure & Travel GOLF Magazine; Senior Blogger iGolfTravelNews; PGA TOUR VIP Guest Host Program Sales Accredited
• Online Influencer Turtle Bay Golf & Spa Resort, Oahu, Hawaii; Trump Doral, Miami, Florida; El Conquistador Golf & Spa Resort, San Juan, Puerto Rico; Fairmont St Andrews, Fife, Scotland; Legend Golf & Safari Resort, Sterkrivier, South Africa